Lean Startup Still Needs a Questioning Mind
(
General
)
I have seen this so often during startup pitches and discussions with fellow startup founders:
(Source:
CrankyPM blog
)
Questioning your objectives is necessary.
Lean startup
is a good basis but needs critical questioning of the results.
Posted by
Thomas King
at
08:22
2014-01-20 |
Trackbacks (0)
|
Comments (0)
Really Cool Christmas Presents
(
General
)
The best Christmas presents you can get are the ones that are well conceived and hand-crafted. This year I was happy to receive two of these great and very cool presents: A bedside locker and a coffee table.
I have to admit that I am not a big fan of having many furniture in my apartment. Hence I did not buy a bedside locker. This repeatedly resulted in a chaotic stack of books and magazines beside my bed. To resolve this matter my girlfriend conceived a bedside locker that is not an extra furniture but an add-on to my bed: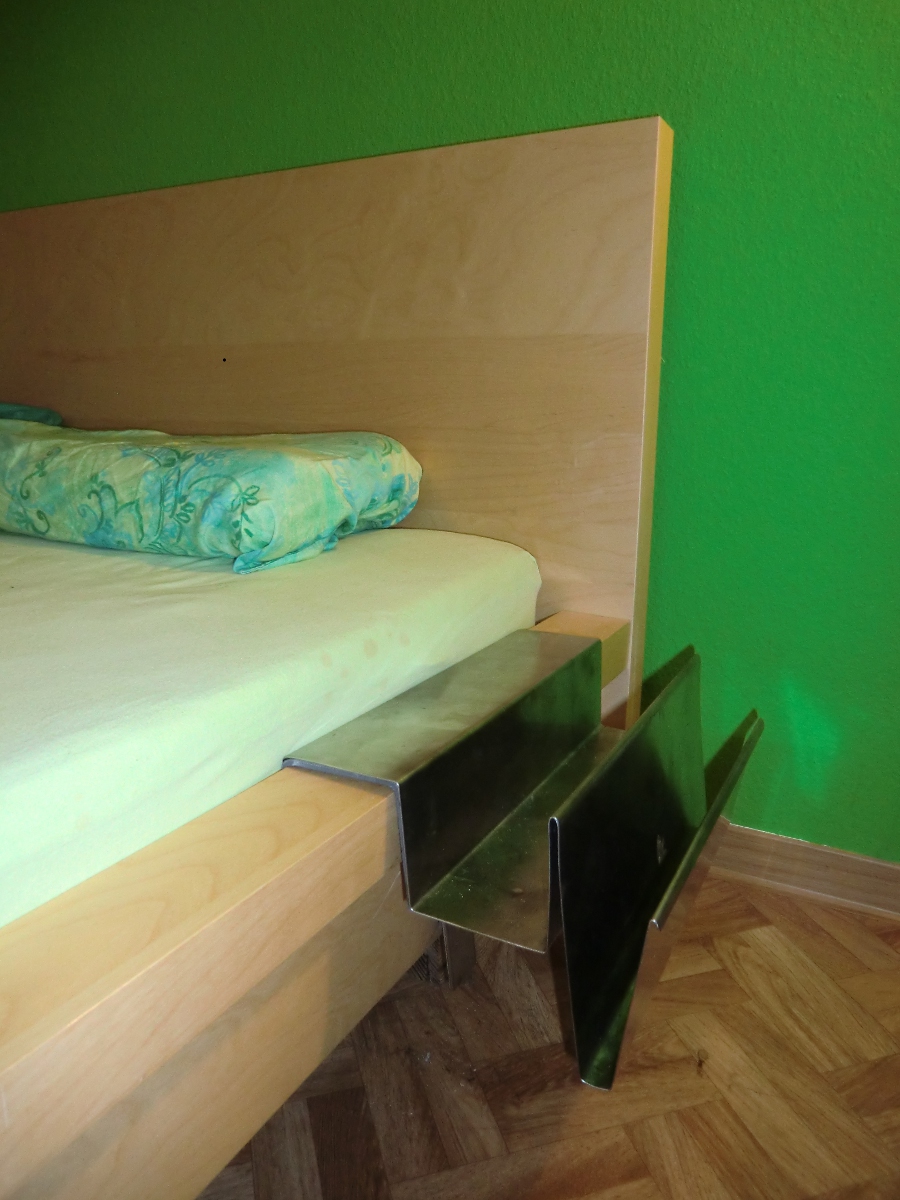 Isn't it cool? With this bedside locker I can organize my books and magazines without having an additional furniture. Well done! Thanks for the present!
Coffee tables are quite expensive especially if they are fancy and in vogue. So, my girlfriend and I found such a coffee table but as you can expect it was too expensive for us. However, we just liked this kind of coffee table so much that we decided we have to get one without paying a fortune. The solution was easy: just do it yourself. As we already know what we wanted I started looking for a few old oak beams. Lucky as I am I found a few very old ones that I bought for a few bucks. I handed over these oak beams to my girlfriend's father who did some magic to transform these old oak beams into a shiny looking coffee table. So, this was really a great Christmas present. Thank you very much!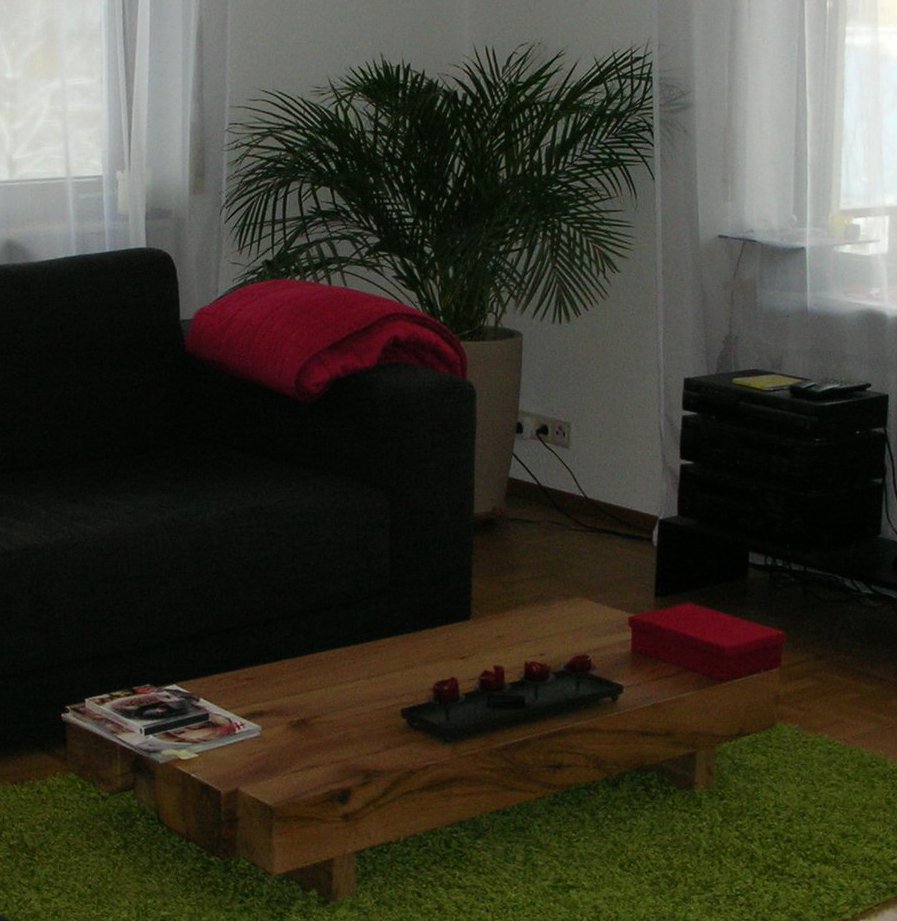 Best regards,
Thomas
Posted by
Thomas King
at
17:32
2011-01-09 |
Trackbacks (0)
|
Comments (0)
2010 in Review from a Mobile Perspective
(
General
)
This is a very interesting video about 2010 from a mobile point of view. Enjoy the great numbers and results:
I am looking forward to do mobile in 2011. It sounds like it will be very promising! :-)
Cheers,
Thomas
Posted by
Thomas King
at
22:20
2010-12-18 |
Trackbacks (0)
|
Comments (0)
Being the Groomsman
(
General
)
Last Saturday my good old and closely connected friend Matthias got married. He married his long time girlfriend Conny. The weeding started with a photo session lead by a professional photographer. The photo session was much fun as the weather was lovely, the photographer had great ideas about scenarios, and we were all in a great mood. After the photo session, the church wedding started. The priest did a great job and the band played thrilling music. The whole ceremony was just touching! After the church a reception was hold before the wedding party left for the final destination of this day. The dinner and the party took place in the lovely hotel Hohenkarpfen. About 85 people attended the delicious dinner and celebrated with the bridal couple before a massive firework started the unofficial part of the night. A DJ which changed the music genre from time to time played great party music until early Sunday morning.
For me the wedding was just a great event and lots of hard work. Being the groomsman is a challenge. However, I think it was worth the effort as all planning played out. Conny and Matthias really enjoyed the weeding and that was the goal of the day! ;-)
The pictures below show Conny and Matthias as they are in the church hugging each other and as they leaving the church in a rain of red hearts, respectively.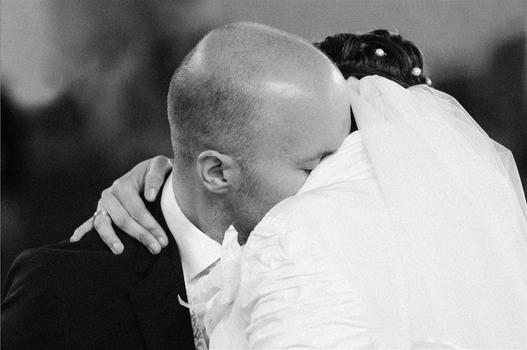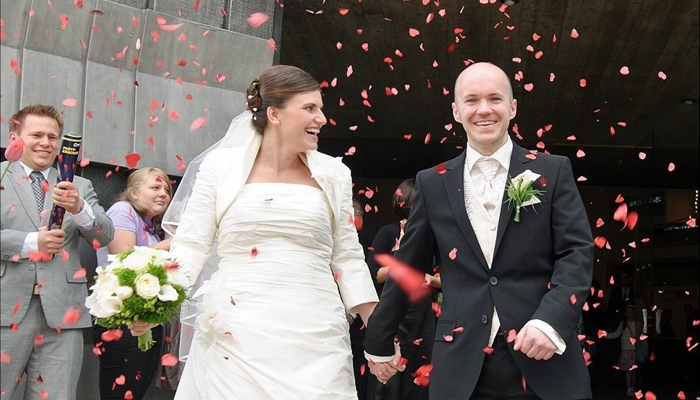 Cheers,
Thomas
Posted by
Thomas King
at
22:45
2010-05-26 |
Trackbacks (0)
|
Comments (0)
Class about the "Economics of the Internet"
(
General
)
Prof. Rothlauf from the University of Mainz (also known as the Johannes Gutenberg-Universität Mainz) invited me to give a talk about the "Economics of the Internet". I was happy to accept this invitation and so we scheduled a meeting for this talk. We both agreed on the 10th of December which means I gave the talk yesterday. I started the talk with an introduction of the hierarchy of the Internet. With this model I explained the tier 1-3 concept as well as how peering and transit work. During the second part of the talk I gave an outlook on the current developments such as the raise of so-called Hyper Giants (=very large content-, access-, and hosting providers) and the massive increase of mobile Internet usage.
For me it was great fun to talk to motivated students and I really enjoyed the fruitful discussions around the content I presented during my talk! It is always good to be back to the universities! ;-)
Cheers,
Posted by
Thomas King
at
15:56
2009-12-11 |
Trackbacks (0)
|
Comments (0)
Ubivent - A Really Cool Startup
(
General
)
A good friend of mine founded together with two other friends of mine a company called
Ubivent
. This company develops and sells software to setup virtual events. A virtual event is like an old-fashioned event (e.g., conference or fair) but the people meet virtual (in the Internet) instead of in person. To support such virtual events, software is needed that allows the participants to interact with each other as during old-fashioned events. So, the software created by Ubivent allows users to walk through the meeting venue, inspect different booth, attend to different talks, and talk to different persons (via chat, VoIP, or video). The software developed by Ubivent created a lot of news coverage and already won a few prices:
Entrepreneur Price of Mannheim
, and
Interview with Sun
.
I really like what Ubivent is doing and I believe they are on the right track! I hope they will be a market leader in the near future and the big company within the next years!
Check them out, they are really cool!
Best regards,
Thomas
Posted by
Thomas King
at
15:55
2009-12-11 |
Trackbacks (0)
|
Comments (1)
My Ph.D. Celebration Party
(
General
)
Last Saturday I hosted my Ph.D. celebration party in the beautiful party rooms at my friend's house (Have a look if you are looking for really great and stylish
party rooms
in Schramberg, Germany). More than 25 friends attended my party. Most of these people I know from my time in Mannheim (e.g., fellow (Ph.D.) students) and from my childhood in Schramberg. It was a great party and we had a lot of fun. It was nice talking to all my good old friends and having a beer with them. However, it was also interesting to realize that we have been maturing in the last few years. The party finished around 3am while there was still some beer available. A few years ago this would never had happened. :-)
I selected two pictures that were taken during the party. The first picture shows my girlfriend (the gorgeous girl that is partly covered by me), my father, me and a few friends. The other picture depicts a delicious cake a friend of mine prepared for me. It was made by healthy organic ingredients and hence it tasted so good it was just unbelievable. Thanks to
Daniel
for this great cake.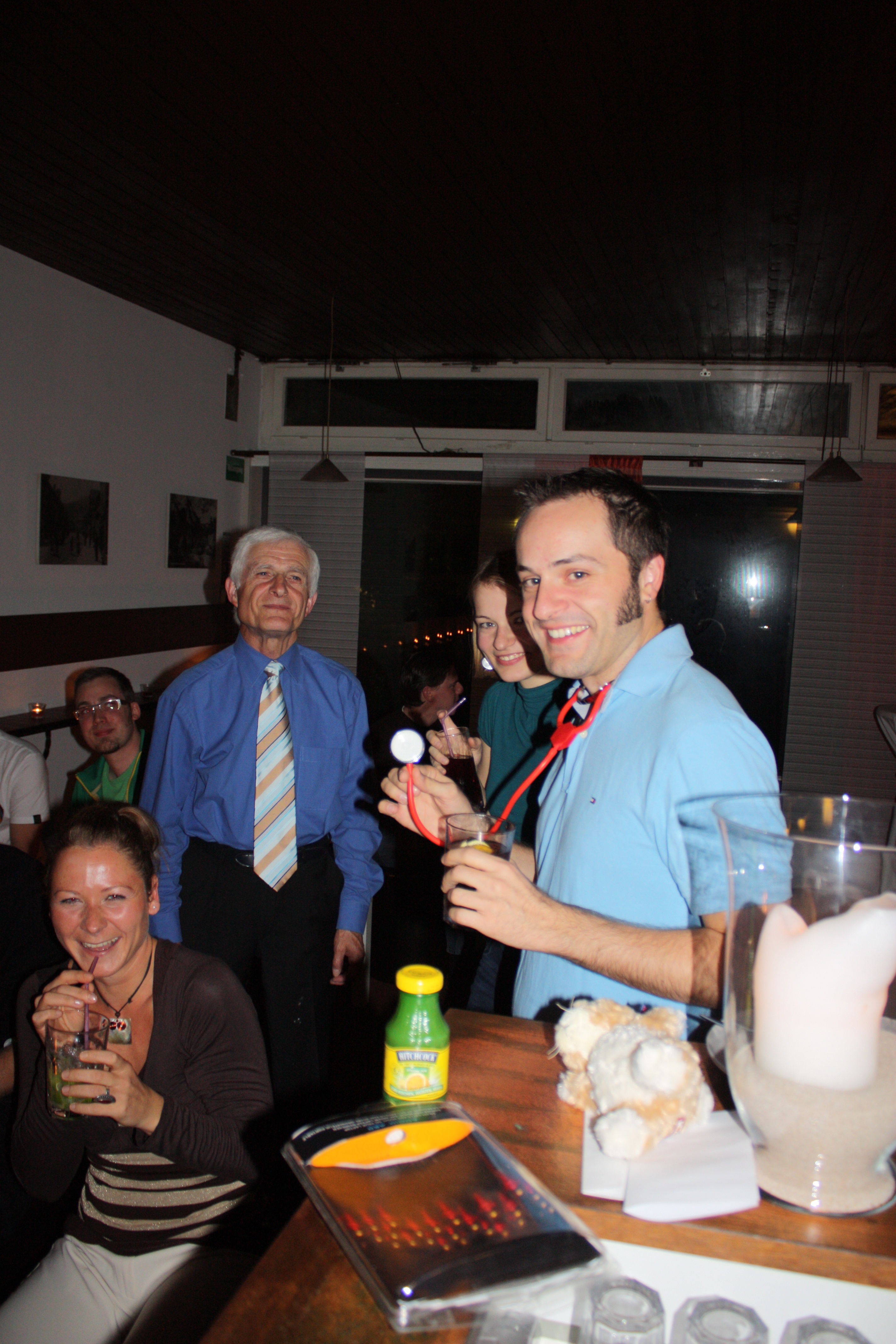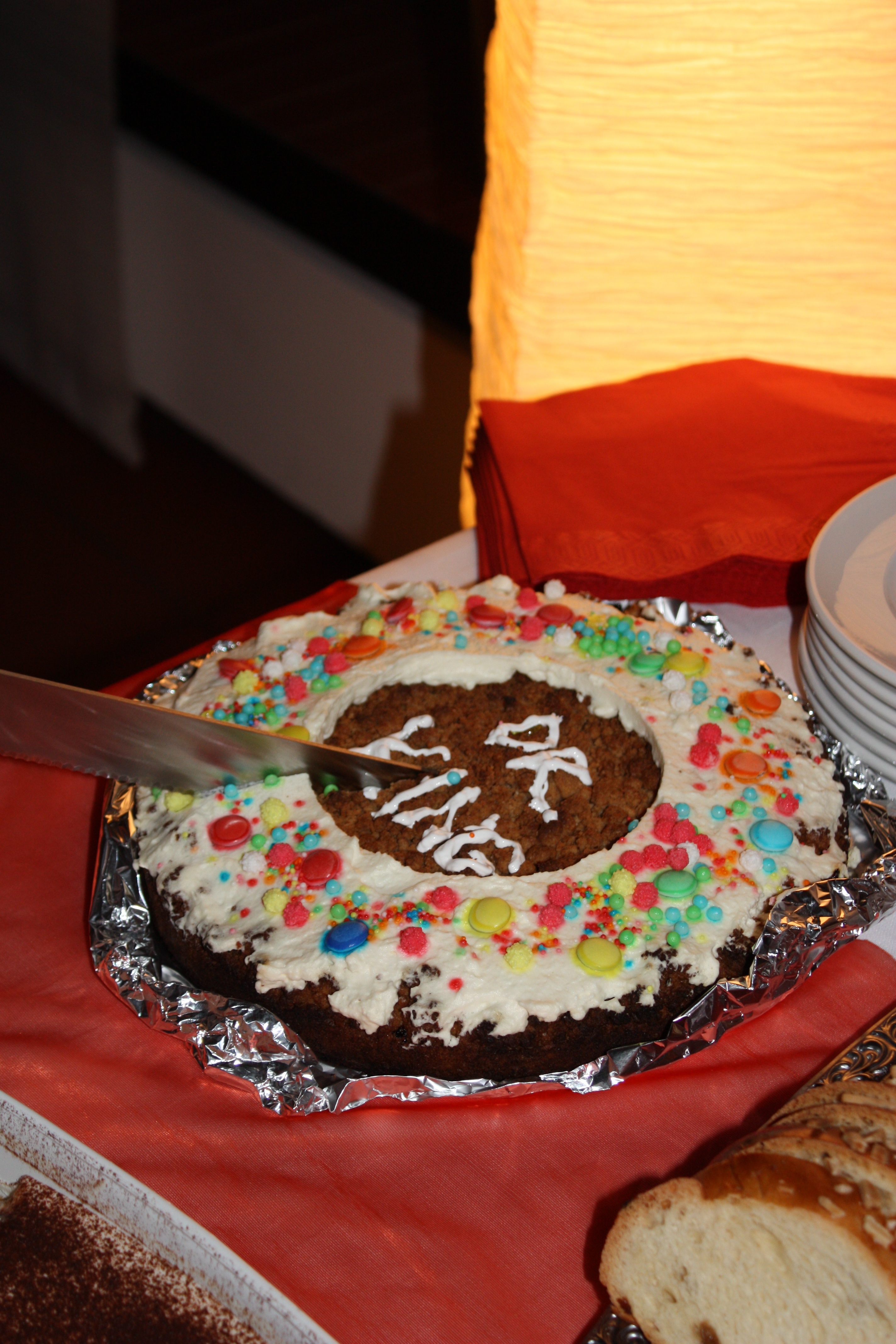 My friends gave me many really cool gifts. I really appreciate any of them. However, I have to talk about one especially here in this blog. My friend
Hans-Jörg Happel
recorded all my blog postings that I have created since August 2005. In total he recorded more than 2:25 hours of readings. He also designed a really cool CD cover for the CD including all the readings (see the subsequently shown pictures). The best thing is that he also mixed the readings with some really fancy music as bonus tracks for the CDs. It sounds really cool!!! Unfortunately, I cannot provide this bonus tracks as the music he used for his composition is licensed by others. However, Hans-Jörg is a very creative and great musician. Thank you very much!!!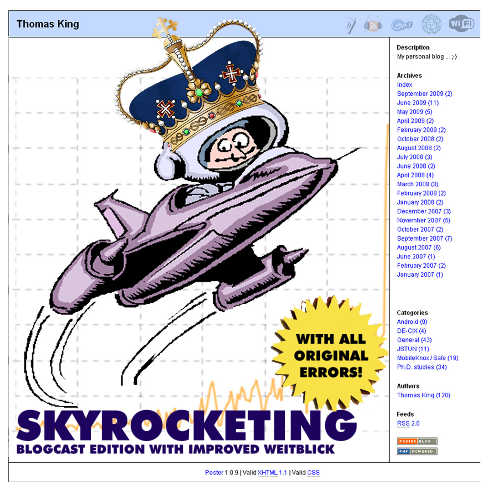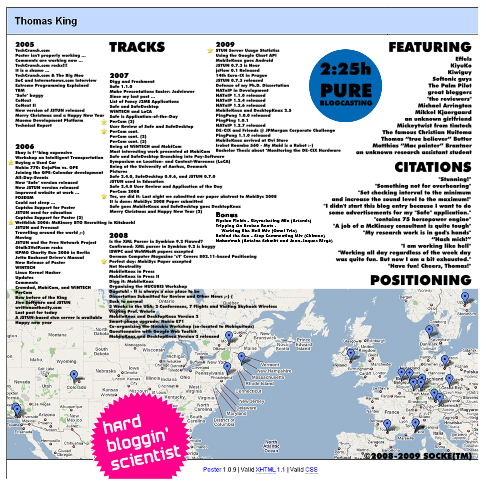 It was great to meet all of you! See you at the next party! :-)
Cheers,
Thomas
Posted by
Thomas King
at
23:35
2009-09-14 |
Trackbacks (0)
|
Comments (0)
Irobot Roomba 560 - My Maid is a Robot :-)
(
General
)
Last week I bought an
Irobot Roomba 560
. The Irobot Roomba 560 is a robot that is able to vacuum an apartment. After my Roomba 560 has been delivered - I gave it the name R2D2 (in my world R2D2 is male :-)) - I unwrapped it and charged the batteries. After a couple of hours the batteries were fully charged and I pressed the button to let R2D2 do his job. I have to admit, I am really impressed how well he cleans. Even after I have vacuumed my apartment by myself a couple of days ago R2D2 was able to collect half a box of dust during his 25 minutes ride through my apartment. He covered the complete floor space and even moved into corners. The video attached to this blog message shows R2D2 vacuuming my living room.
So, now thanks to R2D2 I have approximately 30 minutes more time a week to do more interesting stuff than vacuuming. :-)
Best regards,
Thomas
Posted by
Thomas King
at
21:17
2009-09-06 |
Trackbacks (0)
|
Comments (0)
Using the Google Chart API
(
General
)
For my previous posting in this blog I used the
Google Chart API
to generate the figure showing the number of unique IP addresses accessing my JSTUN-based STUN server over time. I was really impressed by how easy it is to use the Google Chart API. It is well designed and the results look pretty. Well done!
Best regards,
Thomas
Posted by
Thomas King
at
15:16
2009-02-22 |
Trackbacks (0)
|
Comments (0)
Questionnaire with Google Web Toolkit
(
General
)
For a friend of mine who is currently a Ph.D. student at the business administration department of the University of Mannheim, I quickly implemented a questionnaire with the Google Web Toolkit (GWT). GWT is a framework to write AJAX web applications. AJAX web applications are written usually in JavaScript and HTML which makes the development tedious and error-prone. To overcome this drawback the GWT framework allows developers to write AJAX web applications in Java like any other GUI-enabled application. The Java code is then compiled into JavaScript and HTML. This was my first GWT project but it was a lot of fun to learn this technology. I am highly impressed by how easy it is to create AJAX web applications by using GWT. Have a look by yourself:
http://umfrage-kuester.bwl.uni-mannheim.de/umfrage-kuester/
Best regards,
Thomas
Posted by
Thomas King
at
23:38
2008-10-17 |
Trackbacks (0)
|
Comments (0)
Smart-phone upgrade: Nokia E71
(
General
)
Two weeks ago I replaced my
Nokia E70
with the recently released
Nokia E71
. On the paper, the differences between the E70 and the E71 look minor but in the daily life they have a huge impact on the usability. The E71 is by far smaller and thinner than the E70. This is a great relieve because the E70 was so bulky that it bulged my pockets each time I put it their. A great plus for the E71 is that it contains a built-in GPS receiver which means I do not have to carry an additional GPS mouse around anymore. On the software side the E71 comes with the latest version of Symbian OS which is a bit more polished compare to the E70. The coolest new feature is that it automatically connects to my SIP provider each time it detects that it is in communication range of a predefined access point. This is very nice because it safes me the annoying task of manually connecting to my SIP provider each time I want to make a Voice-over-IP call. The improved connection stability is also a great plus which makes Voice-over-IP an even more great experience. The last thing I want to mention is the improved battery run-time. While it was necessary to re-charge the E70's battery after a 3 hour Voice-over-IP call, it is now only a drop in the capacity of two bars. The summarize my experience with my new phone: Just great! Well-done Nokia! Let me finish this blog entry with a side-notice on all the IPhone hype: The Nokia E71 is the better IPhone! ;-)
Cheers,
Thomas
Posted by
Thomas King
at
15:30
2008-08-02 |
Trackbacks (0)
|
Comments (0)
Net Neutrality
(
General
)
Do you know what Net Neutrality is? If not or if do not support Net Neutrality please watch this movie:
Cheers,
Thomas
P.S.: As you might have guessed: I am a big supporter of Net Neutrality!!!
Posted by
Thomas King
at
23:44
2008-03-05 |
Trackbacks (0)
|
Comments (0)
Merry Christmas and Happy New Year
(
General
)
Dear Readers, I wish you all a merry christmas and a happy new year. Enjoy the holidays and hopefully the year 2008 will be at least as cool as 2007 has been! ;-)
Best regards,
Thomas
Posted by
Thomas King
at
21:31
2007-12-25 |
Trackbacks (0)
|
Comments (0)
Safe 2.4.0, SafeDesktop 0.9.6, and JSTUN 0.7.0
(
General
)
In the last couple of days I released a lot of new versions of software I am currently maintaining. It started with updates for Safe and SafeDesktop. The most important feature here is that Safe offers now a go-to button. Let's assume you store a long list of entries in your Safe then in the past it was quite cumbersome to get to the entry that is in the middle of your list. You had to press the go-down button of your phone quite often. My Safe stores currently 123 entries and it annoyed me very often to wait for around 10 seconds to get to the desired position. So, I came up with the idea of a go-to button. You press this button and enter the first character of the entry you want to see. Magically, the list jumps to the first entry that start with the character you entered a few seconds ago. It is just a small feature but it saves me some time and makes the use of Safe even more easy. :-)
It is more than a year ago that I released the last version of JSTUN. During this time I worked on a STUN-server and on an ICE-integration. Most of this was requested by Jive Software. Unfortunately, I was too busy to implement all this in a short period of time. Additionally, I lost contact to the Jive guys. So, after releasing the latest version of JSTUN it it a great moment to get in contact with the great guys from Jive again!
Cheers,
Thomas
Posted by
Thomas King
at
15:30
2007-11-03 |
Trackbacks (0)
|
Comments (0)
Pictures
(
General
)
I just uploaded a bunch of pictures. One set of the pictures are taken in Montreal during MobiCom, the other one during LoCA in Oberpfaffenhofen. I hope you enjoy the pictures.
And for those of you who are to busy to click through the pictures, I selected the most impressive one for each set:
Olympic park at night
and
a Bavarian folk dancer
.
Cheers,
Thomas
Posted by
Thomas King
at
21:39
2007-10-21 |
Trackbacks (0)
|
Comments (0)
List of Fancy J2ME Applications
(
General
)
I am a J2ME developer for many years now. In 2001 I started developing Safe (
http://www.javawi.de
) and since then I updated this application once in while. So, I kept pace with the evolvement of J2ME. MIDP 2.0, CLDC 1.1 and the advent of various JSR projects improved the plain J2ME framework a lot. Now, it is possible to access files stored on a mobile device and to communicate with back-end servers by using Web-Services. The 3D-graphic API allows fancy game scenarios and the well-known Location-API is an enabler for the location-based service market.
Not only has the Java side improved, also mobile devices advanced. Back in 2001 my Palm Pilot m505 was busy for a few hundreds milliseconds decrypting a short text message that has been encrypted using AES. Nowadays, I cannot recognize any delay in decrypting the same text message. Also, many mobile devices offer a lot of free memory, so that J2ME applications can be executed at high speed without many time-consuming garbage-collection runs.
Back in 2001 and 2002 we have seen an explosion of J2ME applications even that the J2ME-platform was not as feature-rich as it is today and the hardware was much slower. Register-websites such as www.midlet.org list nearly 500 different applications ranging from a Doom port to ICQ instant messenger client. However, my impression is that many software projects and register-websites have been shut down during the last few years. For instance, www.midlet.org's front website lists the last addition of a software project back in 2004. And if you click through the list of applications many project websites do not even exist anymore.
On the other side, companies likes Yahoo! and Google have joined the J2ME software market by releasing tools such as Google Maps, Google Mail and Yahoo! Go. These tools are on the cutting-edge of what is possible with J2ME and show how cool applications on mobile devices can be. From my point of view, we are lacking a website that keeps track of all the cool J2ME applications that have been unleashed recently. To change this I am going to post a list of cool applications I use in my daily life. I ask everybody who is using other cool J2ME applications to complete the list of applications by posting the name and a link to the project website by adding a comment to this blog entry.
Very cool J2ME applications (in random order):
This is my list of fancy J2ME applications for shiny mobile devices. Now it is your turn to enhance this list. :-)
Cheers,
Thomas
Posted by
Thomas King
at
00:00
2007-08-08 |
Trackbacks (0)
|
Comments (3)
Make Presentations Easier: Jodviewer
(
General
)
We all have to attend to a lot of meetings and once in a while we are forced to present our work or ideas by ourselves. In most cases, every presenter brings his own laptop to the desk to make sure his presentation works fine. This is actually very annoying because each time the laptops are exchanged and connected, there is a small and unproductive break. It would actually be better if everyone would use the same presentation software or if the presentation software could be downloaded from the web on demand.
A friend of mine
is a true believer of this idea. He already implemented a viewer for the
OpenOffice
presentation file format. The viewer is called
Jodviewer
. It is written in pure Java and it supports the OpenOffice file format. So every presentation created with OpenOffice will work with this viewer. The viewer can be used as a standalone application as well as an applet. It is still in its early stages but already provides the basic features. Give it a try and hopefully we will see a revolution in the way presentations are performed.
Posted by
Thomas King
at
10:46
2007-02-22 |
Trackbacks (0)
|
Comments (0)
Digg and Freshmeat
(
General
)
Matthias Brantner, a friend of mine, is getting a painter. He really adores
Mac OS X
and hence he painted a few of the dock icons in acrylic. After he arranged the paintings in the right order he took a picture of them. The
show
looks really cool!!! So far, the paintings cannot be bought, they can only be received as a gift. However, I think until now nobody named the right amount of money! ;-)
To raise prices (;-)) and the popularity of the painter, another friend of mine created a digg entry. So, please digg
it
.
Another friend (actually the same friend as in last line) and great hacker, namely Thomas Butter, implemented a
flickr
to
ipod
synchronization tool. It is really cool and works pretty well, even that it is in its early stages. So, give it a try and download the tool from the
google code repository
. Additionally, Thomas created a
freshmeat project
to make it easier for users to keep track of the development. Let me know, what you think about the tool. I hope you will love it!!!
Posted by
Thomas King
at
23:36
2007-01-09 |
Trackbacks (0)
|
Comments (0)
Happy new year
(
General
)
I wish you and your family a happy new year. Enjoy the party and lets have a lot of fun in 2007. See you next year! ;-)
Posted by
Thomas King
at
15:57
2006-12-31 |
Trackbacks (0)
|
Comments (0)
Last post for today
(
General
)
Today, I posted all the messages I queued so far. I promise, no more messages in the near future (at least the next few hours while I am sleeping :-)).
Posted by
Thomas King
at
22:42
2006-11-30 |
Trackbacks (0)
|
Comments (0)
writtenonthecity.com
(
General
)
After I arrived back home in Germany I stumbled over a very cool website that is a lot of fun:
http://www.writtenonthecity.com
. (Unfortunately, I was too busy to report about this website.) This website collects pictures from writings left on curious places by strangers. It looks like the web-site's owners came from the San Francisco area, because the web-site contains more than 140 picture from San Francisco but only a few picture from other places in the world. After I realized that I also took two pictures from slogans written on the pavement in San Francisco I uploaded these pictures to the website. Just have a look:
Picture1
and
Picture2
. Isn't it a lot of fun??? Really cool web-site. *g*
Posted by
Thomas King
at
22:41
2006-11-30 |
Trackbacks (0)
|
Comments (0)
Comments
(
General
)
I realized that everybody stopped commenting my blog messages. What happenend? Could you please comment why you stopped commenting? Is it too boring? Do you want to be unrecognized while enjoying my blog?
I am highly interested in your opinion.
Posted by
Thomas King
at
23:27
2006-08-22 |
Trackbacks (0)
|
Comments (4)
Updates
(
General
)
Hi all,
today, I am going to provide only a few updates to recent posts:
I tried to install the monitor-mode enabled Lucent Orinoco driver for Linux. Unfortunately, I was not as easy as thought. The driver did not compile in the first run so I was forced to fix it. Frankly, it was pretty easy and after a brief discussion with the project maintainer, we figured out that this problem only occurs with SuSE kernels. After this, he released a bugfixed version for all SuSE users. ;-) (Okay, this is not really an update, however, I was too lazy to start an extra post for this little message).
Yesterday, Mr. Zhu Yi from Intel released the latest version of the ipw2200 driver. Kindly as he is, he noticed my patch in the release notes.
KPMG has hired a camera team to record the charity run and eventually the DVD with the movie arrived a few days ago. I transcoded the movie to shrink it in size. The movie is available from my website (only 73MB :-)). I hope KPMG will not sue me for sharing this movie with you ...
Cheers,
Thomas
Posted by
Thomas King
at
23:16
2006-08-22 |
Trackbacks (0)
|
Comments (0)
New Release of Poster
(
General
)
A couple of days ago, KiyuKo released a new version of
Poster
. (For those of you who don't know what Poster is: Poster is the software I use to run my blog.) The latest version of Poster contains two plugins to handle damn and stupid spammers: a blacklisting tool and a captcha plugin. As most of you already know, I developed the captcha plugin (frankly, I hacked it). Due to the unlimited efforts of KiyuKo it now fits smoothly into Poster. Thanks for all the support and soft but rigid pressure. ;-)
Greetings,
Thomas
Posted by
Thomas King
at
22:05
2006-07-30 |
Trackbacks (0)
|
Comments (0)
Jetta Backseat Driver's Manual
(
General
)
The last issue of Wired contains a very nice and funny advertisement called the "Jetta Backset Driver's Manual". I really like this ad, because I have never seen such a creative advertisement from a car manufacturer like this one. It is really cool! The guys from
brentter.com
scanned the manual, so please have a look and try the exam. I achieved 7 correct answers and hence I am an "Official Backseat Driver". ;-)
Posted by
Thomas King
at
21:34
2006-07-30 |
Trackbacks (0)
|
Comments (0)
KPMG Charity Run 2006 in Berlin
(
General
)
I have been invited by
KPMG
to attend to the
KMPG Charity Run
in Berlin last weekend. It was a lot of fun. See the
gallery
or a few selected pictures:
walk
,
group picture
,
start
(I know I look bored),
me in action 1
,
me in action 2
,
finish
, and
cheque.
Greetings,
Thomas
Posted by
Thomas King
at
21:48
2006-07-16 |
Trackbacks (0)
|
Comments (0)
Gtalk2VoIP.com rocks
(
General
)
Hi all,
today, I upgraded my
Nokia 770
with the 2006 software edition recently released by Nokia. This update contains a
Google Talk
client (so, there is hope that Google will sooner or later release a Linux version of Google Talk) and I played a little bit with it. Fortunately, my alpha geek hero pointed me to a website called
Gtalk2VoIP.com
. Gtalk2VoIP.com offers to call every phone in the plain old wired telephone system. So far, Google is not offering such a service so it is really cool that a third party came up with such a gateway. I played a little bit with Gtalk2VoIP. com and I really liked it. This is really cool stuff! Great job! I would like to promote this service here: everybody who is using Google Talk should try it! You get 5 cents for free to make trail calls. I called my answering machine at work and it really worked. Unfortunately, I cannot say anything about the voice quality because I used three wireless lan access points in row to get Internet access. I will try at the university soon and then I let you know.
Greetings,
Thomas
Posted by
Thomas King
at
00:31
2006-07-13 |
Trackbacks (0)
|
Comments (0)
Moving
(
General
)
I have decided to move out of my current apartment because I feel too old to live in a shared apartment any longer. I enjoyed the accompany of my roommates in the past, however, now I am not a student anymore (hence I am rich enough to pay the rent for a complete apartment ;-)). So, I was looking for a 2-room apartment in downtown of Mannheim. After reviewing a few apartments I found a very nice one. Lucky as I am I was selected by the landlord to be the next tenant. So, next Saturday I will move all my stuff to the new home. This is why I took a few days off to pack my stuff and get prepared for the relocation.
Greetings,
Thomas
Posted by
Thomas King
at
00:32
2006-06-28 |
Trackbacks (0)
|
Comments (0)
Weitblick 2006: McKinsey BTO Recruiting in Kitzbuehl
(
General
)
McKinsey invited me to a recruiting event in
Kitzbuehl, Austria
from 2nd February to 5th February.
I and a few other Ph.D. students
gathered at the
Alpine University
(a facility owned by McKinsey) for 4 days. The main goal for this event was to bring potential employees together with McKinsey consultants so that the Ph.D. students can learn more about the work McKinsey is doing. McKinsey is hiring best-of-class students of nearly all fields of study. Although McKinsey is paying a very high salary and is offering a very interesting job it is actually very difficult for them to find enough highly qualified consultants. The reason for this is that a job of a McKinsey consultant is quite tough. Usually, a consultant is working at the client's facility which means that the consultant is leaving his flat at latest at monday mornings and comes back home at earliest at Thursdays nights or more often at Friday nights. For many people, this long period of time without being home is very annoying. However, this is not a McKinsey specific problem. Almost all consultants of other consultancies work out-of-town during the week.
McKinsey organised a well-balance schedule for us. Besides a few presentations about McKinsey, McKinsey's work and completed projects we spend a lot of time doing spare time activities (e.g. skiing,
open-bar
,
wine-tasting
). And of course, we were asked to do a
Case-Study
. The Case-Study was a lot of fun. Pretending to be a McKinsey consultant and working on a real case was quite interesting and instructive. It is actually pretty hard to do all the math and asking the right questions, however, we worked in teams of four what extremely helped solving the case.
The reason for this late posting is that McKinsey started shipping the pictures last week. However, I uploaded the pictures that the McKinsey stuff took while we stayed in Kitzbuehl. As you can see from the pictures, we all had a great time.
Posted by
Thomas King
at
20:50
2006-05-21 |
Trackbacks (0)
|
Comments (0)
Captcha Support for Poster
(
General
)
In the last few days I have been exchanging a lot of emails with KiyuKo, the maintainer and founder of
Poster
. Poster is the software that runs this blog. Poster is available under GPL and unfortunately only used by small group of nearly 20 people. However, Poster supports any basic features required to run a blog. I like this software because of its intuitive handling and serenity. As you might know, I hacked a captcha extension for Poster. It will be added to the next version of Poster in such a way that it can be switched off and on by the administrator. The reason for this is that KiyoKo wants to support console-based browsers (e.g. lynx) as well as "graphical user interface"-based browsers (e.g. Firefox). I think this is a good decision. What do you think?
Honor to whom honor is due: My captcha extension is inspired by the captcha program available under
http://freshmeat.net/projects/captcha/
. Thanks for the great work.
Cheers, Thomas
Posted by
Thomas King
at
00:31
2006-04-10 |
Trackbacks (0)
|
Comments (0)
Captcha Support for Poster
(
General
)
As you may have noticed, last night, I upgraded the blogging software I use (called Poster) to the latest release. During the upgrade, I was really pissed about the spammers polluting my nice blog with unwanted advertisements and nonsense. First of all, I deleted all the spam and secondly I decided to add captcha support to Poster so that all the spam bots will hopefully not be able to annotate my beautiful blog entries anymore. ;-) After 2 hours everything was implemented and tested. Okay, for the captcha image support I was inspired by another captcha project (I will release further details later) and the captcha integration is more a dirty hack than a smooth add-on. However, I already contacted the Poster maintainer to see if he wants the captcha support in the main source tree. So far, I have no answer. Hopefully he will add it (after I streamlined the code a little bit). It would be cool! I keep you updated ... stay tuned.
Cheers, Thomas
Posted by
Thomas King
at
09:42
2006-03-29 |
Trackbacks (0)
|
Comments (1)
Could not sleep ...
(
General
)
Tonight, I could not sleep. After a while liing awake in my bed I decided to get up and to add a PayPal donation button to the homepages of the GPL projects I am maintaining (namely
"JSTUN"
and
"Safe"
). It is pretty easy to add such a button. So, lets see how much money the projects will earn through these buttons. I will keep you informed.
I will give it another try: hopefully, I am now tired enough to fall asleep ...
Good night,
Thomas
Posted by
Thomas King
at
02:08
2006-03-27 |
Trackbacks (0)
|
Comments (1)
FOSDEM
(
General
)
I forgot to tell you: I have been attending the
FOSDEM
(Free and Open Source Developers' European Meeting) held in Bruessel from 25th to 26th February 2006. It was very informative and great fun. I assume, I saw nearly 99,9% of Bruessel during our attempt to find the way to the hotel. We (Thomas Butter and I) had no adequate maps and even worse, a wrong address of the hotel. However, eventually, we reached the hotel with a delay of 3 hours. *grr*
Here
you will find the photos we took in an unsorted way.
Cheers,
Thomas
Posted by
Thomas King
at
00:49
2006-03-21 |
Trackbacks (0)
|
Comments (0)
Improved website at work ...
(
General
)
... two days ago, I improved my website at work. A short CV has been added as well as links to my personal publications and my advised publications. I think it is worth a click ...
click here
... enjoy ...
Greetings,
Thomas
Posted by
Thomas King
at
00:24
2006-03-17 |
Trackbacks (0)
|
Comments (0)
All-Day-Events
(
General
)
I figured out that GPE actually supports all-day-events: just do not enter any start and end time. Voila.
However, the import of all-day-events is still not working.
Posted by
Thomas King
at
01:25
2006-02-18 |
Trackbacks (0)
|
Comments (0)
Joining the GPE-Calendar development
(
General
)
I decided to participate in the GPE-Calendar development because I think it is only a little bit of work to make it usable for daily life. So, I started with a debug session to fix a bug in the import of iCalendar events (see bug report
1464
). The problem is that the start and end time of appointments is shifted by one hour. I experienced the same problem, however, as I debugged the gpevtype library I figured out that the problem is not the library. In fact, the appointments in the iCalendar file already contained the "wrong times". So, I investigated the application that created the iCalendar data: I use KOrganizer (a KDE application) to manage my appointments. After a few clicks I realized KOrganizer is not buggy, instead I forgot to set the time zone in the application setup. ;-) As soon as I fixed this, GPE imported the appointments correctly. However, I am not sure if this is also the solution for the bug reported by Martin.
Additionally, I started to debug recurring events. It looks like GPE imports events that last for a few days. Events that recur yearly are not imported. However, this needs a deeper investigation.
During my debug session I realized that GPE-Calendar does not support all-day-events. This is really bad, because I use this feature very often. One of the next steps will be to check if it is possible to add all-day-events to GPE. Furthermore, I am going to disable the alarm tab in new event window.
Finally, I stumbled of a multisync
plugin
for GPE. Does anyone have experience with this plugin?
Cheers,
Thomas
Posted by
Thomas King
at
01:05
2006-02-18 |
Trackbacks (0)
|
Comments (0)
Nokia 770: DejaPim vs. GPE
(
General
)
Today, I read a blog entry posted on
770fan.com
that compares
GPE
and
DejaPim
. DejaPim interestingly wins the comparison. I do not agree with the author and hence I decided to use the following lines to tell you my story. In my comparison I mainly focus on the calendar application because it is undisputed the most used PIM application.
Installation: I installed DejaPim version 1.0 build 215, GPE-Calendar version 0.69-1, GPE-Todo version 0.55-1, and GPE-Contacts version 0.43-1 by downloading the files directly on my 770. The installation process works pretty well. The only thing you have to do is to click on the links on the
DejaDesktop
respectively
Kernelconcepts
web site to start the download of the binary files. After a file is downloaded the 770 starts the "application installer" which asks you if you want to install the program. DejaPim requires to install only one file. In contrast, GPE requires over a dozen files. As stated by the author of the 770fan.com blog entry it is crucial to install the GPE files in correct order. Otherwise, GPE will not work properly. However, the Kernlconcepts web site tells you the correct order and for me it was no problem to get GPE functional.
PIM Features: Both applications provide a calendar application that let you add, alter and remove appointments. Actually, they look pretty similar. Both show appointments in a sorted list. However, GPE provides different views so that you can get a more coarse-grained view of your appointments. For me, it is often very useful the see the appointments of the week or of the month. In both applications it is pretty easy to add an appointment: just press the new event button. A new windows pops up that requests a subject, start time, start date, and end time respectively duration of the event. Additional information such as location and description of the event are supported by both applications. In DejaPim I missed one important feature: recurring events. It is not possible to schedule recurring events or appointments such a birthday or a periodical meeting by just entering one event. For me, this feature is a must for a matured PIM application.
On the other side, GPE shows an alarm button but as described in the blog entry it doesn't work at all. I propose to delete the alarm support in the maemo port of GPE due to the missing atd support of the 770 (Hopefully, one of the maemo GPE developers reads this blog. ;-)).
Import / Export: Unfortunately, both applications do not provide an export of the PIM data. DejaPim offers an synchronization tool based on MS Outlook that costs you $9.95 per month. So, for me it is useless because I only use Gnu/Linux on my computers. On the other side, GPE provides an import of data in the iCalendar respectively vCalendar format. I tested the import and it worked half-decent. The vCalendar format did not work for me whereas the iCalendar format produced reasonable results: common appointments worked well though all day and recurring events were not correctly handled.
Final remarks: DejaPim and GPE provide basic PIM features although extended features are still missing or do not work properly. Hopefully, GPE as well as DejaPim will substantially improve in the future so that they can be used in our daily life. At least, recurring events and a functional import and export of PIM data or even better a synchronization tool for Gnu/Linux are required to be comparative with other PIM applications on dedicated devices (e.g., a Palm). However, the starting point is already there and hopefully it will only be a matter of time until we will see a full-featured PIM application for the Nokia 770. ;-)
Posted by
Thomas King
at
01:13
2006-02-13 |
Trackbacks (0)
|
Comments (0)
Buying a Used Car
(
General
)
My father's car broke down a few month ago. The car was more than 15 years old and hence it was economically senseless to repair it again. So, we checked the online databases to find a new car for my father. First, we thought about to buy a Smart ForTwo, but essentially, it was too expensive. Then we thought about to buy a Golf V, however, we decided to buy a used car, because a used car is quite cheaper than a new car. Finally, we decided to buy a Golf IV. My brother and I own a Golf IV as well. So, we knew what we could expect from a Golf IV. ;-) After we have checked a few used cars we selected one. And today, my father and I visited the owner and we bought the car. As I told you, it is a Golf IV. The car was produced in 2003 and it contains 75 horsepower engine. We got it for a reasonable price. Hopefully, we will not regret that we bought a used car. ;-)
Cheers,
Thomas
Posted by
Thomas King
at
01:11
2006-01-31 |
Trackbacks (0)
|
Comments (0)
Ebay is f**king expensive
(
General
)
Today, I received the bill for my activities on Ebay of the last few weeks. Okay, this fact alone is nothing special. The point is that Ebay is asking for 8.89 Euros for a single auction. In this auction I sold a cellphone for 200 Euros, so Ebay is requesting 4.5 percent of my revenue. This is f**king expensive. Think about the benefit Ebay is drawing every year. Why is there only one online auction marketplace? As we have seen in the past, a monopolized market is neither benefitable for the consumers nor is it improving the technology progress.
I call for at least another online auction platform! There should be enough terrain for another online action company in this market, because there are so many people worldwide, who want to sell their stuff. ;-)
Lets see what will happen in the future? Perhaps, I will start a project called Ebay2????
Greetings,
Thomas
Posted by
Thomas King
at
01:11
2006-01-05 |
Trackbacks (0)
|
Comments (0)
Maemo Development Platform
(
General
)
I managed to install the Maemo Development Platform and I read a lot of articles about maemo development. As soon as I get some sparetime I will start with the "Safe NG" implementation. The name is derived from the original "Safe", and the extension "NG" is chosen as an abbreviation for "next generation". Of course, I could have named it "Safe 2.0". ;-)
Cheers,
Thomas
Posted by
Thomas King
at
12:50
2005-12-26 |
Trackbacks (0)
|
Comments (0)
Merry Christmas and a Happy New Year
(
General
)
Hi all,
I wish you a merry christmas and a happy new year! Wherever you are, enjoy your life and have fun!
At the moment, I am playing with the Maemo Development Platform, because I ordered a Nokia 770 two weeks ago. To get a better understanding of how Maemo works, I plan to port "Safe". Okay, it is not a port, it is more or less a reimplementation of "Safe". As soon as I get a beta version ready, I let you know. I hope my Nokia 770 will replace my Palm Tungsten E. Yeah, I know, at the moment I am still waiting for Nokia to deliver the 770 to me. ;-) So lets see, what happens ...
Greetings,
Thomas
Posted by
Thomas King
at
02:00
2005-12-26 |
Trackbacks (0)
|
Comments (0)
TBM
(
General
)
In past few days, I read TBM during my rides with the tram (mostly from home to work and back). Honestly, I am disappointed about the book. 33 of the most remarkable marketing guys gathered to author this book. This sounds impressive. However, the result is not as good as it could be.
The book contains a lot of short stories. Some are very interesting and amusing (e.g. How To Make Money With Garlic). Others are boring and stupid (e.g. Great Ideas In Bed).
My fazit: I probably expected too much; on the other side the book is a great amusement while commuting. If you have an hour sparetime the book is worth a read.
Posted by
Thomas King
at
23:51
2005-09-22 |
Trackbacks (0)
|
Comments (1)
Extreme Programming Explained (Second Edition)
(
General
)
I bought EXE a few days ago and today I started reading. So far, I only finished the first 20 pages, however, I love Kent's writing style. Everything is so obvious and clear when I read his lines. Hopefully, I say the same in a few days when I finished the book.
In the meantime, I hope I learn a lot new stuff about efficient programming and healthy software development.
Posted by
Thomas King
at
22:53
2005-09-14 |
Trackbacks (0)
|
Comments (0)
SoC and Internetnews.com Interview
(
General
)
Google started a hacking project this summer called "Summer of Code" (Soc), The official goal of this project was to support open source projects with great programmers. Inofficially, (I and others assume) Google is looking for high potentials.
One of my best friends participated in SoC and Internetnews.com now interviewed him about his work (
What I Did at Google's Summer of Code
.) He is a great gaim developer (also called high potential ;-)). So, lets play a little game: read the article and tell me his name. The first person that adds a comment to this blog message containing his name wins a price. ;-)
So far, I have no clue what the price will be ... surprise, surprise! ;-)
Posted by
Thomas King
at
12:21
2005-09-11 |
Trackbacks (0)
|
Comments (4)
TechCrunch.com & The Big Moo
(
General
)
As promised Michael from TechCrunch.com contacted me on Monday to collect my address. He stated that the books will be shipped in the next few days. Hopefully, I get my copy in the next few weeks. ;-) Standard Mail usually needs between 7 to 14 days to deliver a package from the U.S. to Germany. We will see ... I let you know as soon as I get my hands on my copy! ;-)
Again, special thanks to TechCrunch.com!!!
Posted by
Thomas King
at
00:11
2005-09-08 |
Trackbacks (0)
|
Comments (0)
It is a shame ...
(
General
)
Just read this:
Spiegel Online article
I am sorry! Sometimes we (the Europeans) are doing stupid things!
Do you know a serious aid organisation? It would be nice if I can donate a little bit of my money!
Thomas
Posted by
Thomas King
at
01:13
2005-09-01 |
Trackbacks (0)
|
Comments (3)
TechCrunch.com rocks!!!
(
General
)
A few minutes ago I checked my initial posting and yes, Michael Arrington from TechCruch.com annotated my posting.
Read it on your own!
Thanks Michael!!!!!!!!!!!
Posted by
Thomas King
at
00:18
2005-08-28 |
Trackbacks (0)
|
Comments (0)
Comments are working now ...
(
General
)
It took me 30 minutes to fix the bug ... Unfortunately, the shape of the source code is really bad! ;-( I will think about switching to another blogging software ... However, first of all I will write a bugreport.
Posted by
Thomas King
at
23:52
2005-08-27 |
Trackbacks (0)
|
Comments (0)
Poster isn't properly working ...
(
General
)
Unfortunately, I have to switch off the comment feature of poster (this is the name of the blogging software I use), because it is not working. Even worse, I was not able to fix the bug by myself ... I will talk to the maintainer of poster ... Stay tuned!
Posted by
Thomas King
at
23:20
2005-08-27 |
Trackbacks (0)
|
Comments (0)
TechCrunch.com
(
General
)
I frequently read TechCrunch.com and yesterday the TechCrunch.com guys started an advertisement activity containing 20 "The Big Moo" authored by Seth Godin. To get one of the free copies you have to write a comment to the article published on TechCrunch.com. A trackback in your own blog works as well. First come, first serve: only the first 10 comment and trackback writers get a free copy.
Unfortunately, I was too late. I posted my comment as number 14 or something. Anyway, there are still a few free copies for trackback writers. So, I decided to start my own blog. A brief check at freshmeat.net recommended
Poster
. And here we go: my first blog message in my own blog is online!!!
Now, I hope I get one of the free copies for trackback writers!
Let's see how things are going ... probably I will continue this blog and talk about ... me! ;-)
Thomas
Posted by
Thomas King
at
23:01
2005-08-27 |
Trackbacks (0)
|
Comments (4)